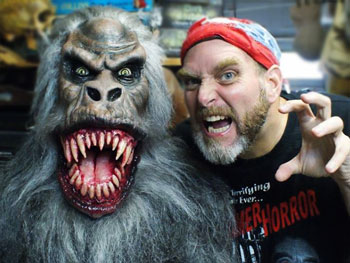 Award winning SFX Artist/Haunt Entrepreneur/Horror Host/Mask Maker/Halloween Product Designer, the "Fiendish Dr." Phil Nichols has been producing work in his studio professionally since 1985.
Trained by master sculptors Dick Smith, Jordu Schell and the late Henry Alvarez, Phil's work is celebrated internationally, and is seen in his signature halloween products and limited edition collector busts and masks.
The Fiendish Dr. Phil is one of the top sculptors in the collector's mask/display bust community and his award winning work is famous and highly celebrated globally.
Phil began sculpting and finishing busts of Horror Movie Characters for the private collector's community in 1996.
His work is equated with his world class mentor the Late, Great Henry Alvarez, as well as his friend and colleague, Dr.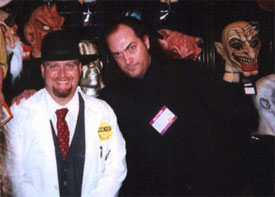 David Lady, who gave Phil his artistic moniker of "Fiendish" Dr. (of Maskology). Note: the photo on the right of the two doctors of Maskology was taken in the DON POST STUDIOS booth at the Halloween industry trade show in 2001.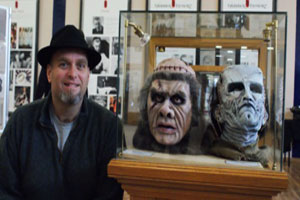 On a recent trip to the UK to promote the Renfield project, Phil was surprised to see two of his busts on display in the Hammer Horrors museum collection. The collection was being exhibited at the Bram Stoker International Film Festival, where the Renfield film was to have its premiere.
Phil's work is recognized internationally and he is greeted with enthusastic fans wherever he goes.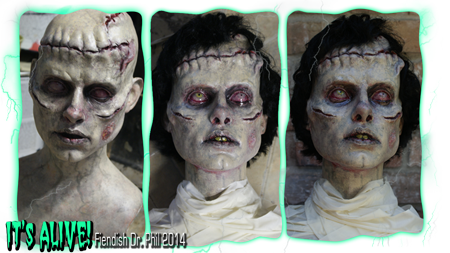 The Fiendish Dr. Phil was invited to participate in the "It's Alive! Project" to benefit the St. Jude's Children's research fund.